Welcome to Day 19 in the 31 Days At The Table Challenge. This meal was intended to satisfy the "Fishy Friday" aspect of the challenge. Although we used three different types of protein in this dish, you could limit what you used to what you like, but I would recommend all three. This made for a fun and rather authentic meal (by authentic I mean, what I would expect to have at a Chinese food restaurant). You can also alter the spicy level by adding more or less chili sauce or red pepper flake. You can even add chopped chilis to the stir fry. Use whatever you have hanging out in the fridge for a great meal.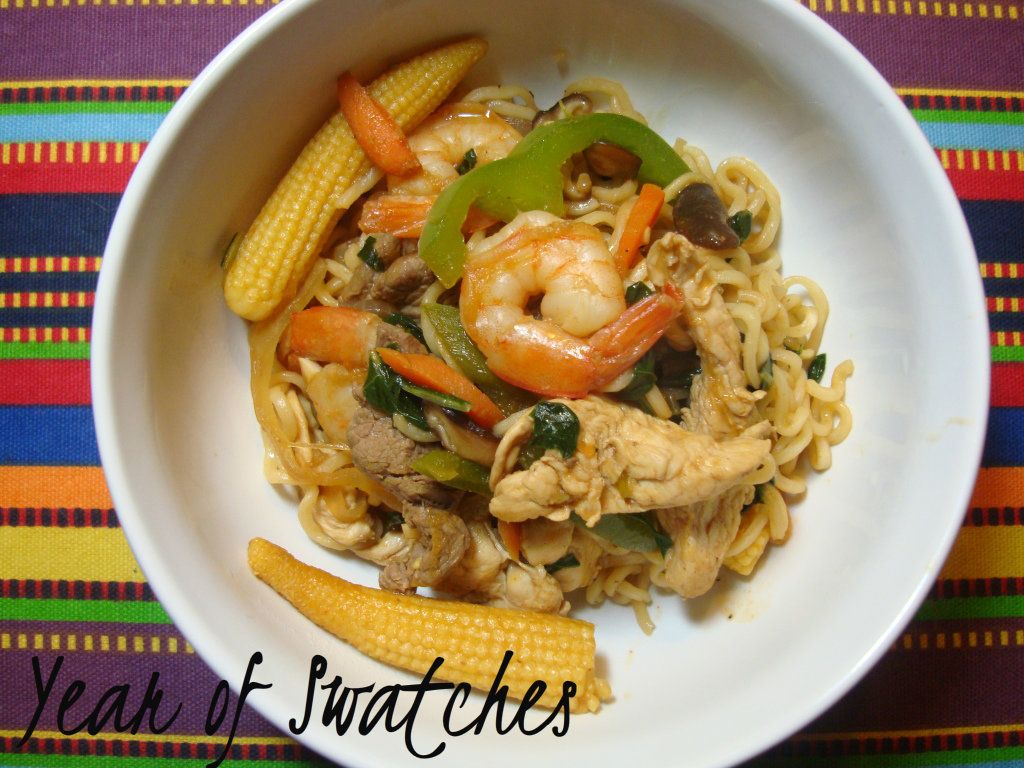 Chow Mein
Original Recipe found
here
Ingredients...
Chow Mein:
1/2 lb Beef (I used stew meat) cut into 1 inch pieces
1/2 lb Chicken breast, cut into 1 inch pieces
1/2 lb Shrimp (I used pre-cooked shrimp, so they just needed to be heated through)
4 packs ramen noodles
1/2 onion, sliced
1 bell pepper, sliced
2 carrots, cut into matchsticks
1 small can baby corn, drained
a couple leaves of bok choy cabbage, rinsed and shredded
4-6 cloves garlic, minced
1t ginger, minced
2 T oil for cooking (I recommend sesame oil if you have it, otherwise your normal veg oil)
Sauce:
1/4 soy sauce
1 T chili sauce (I used Sriracha sauce)
1 T ketchup
1 T Teriyaki sauce
Directions...
In a pot of boiling water, cook the noodles for one minute to soften, then place directly into a bowl of ice water to stop the cooking process and remove the extra starch. Lay out the noodles on a cookie sheet and set aside.
Mix the sauce ingredients together in a small bowl and set aside.
In the mean time, heat sesame oil (or veg oil) over medium heat. Add beef and chicken and cook until mostly done. Add onion, pepper and carrot to pan and sautee for a few minutes until slightly softened but still crisp. Add shrimp, baby corn, cabbage, garlic, and ginger and cook until heated through. Add the noodles and sauce, toss to coat and heat through.
Serve hot.
Enjoy
~Lindsey
One Year Ago...
Chicken Satay with Peanut Sauce