Hello all!
Welcome back to Day 2 of the 31 Days At The Table Challenge. Tonight was our first Crock-Pot meal. There is a great deal of prep work with this meal (think 30 minutes of prep), which I tend not to relate to standard crock pot meals. I usually think that the best crock pot meals require nothing more than mixing the ingredients together and letting the appliance do the work. But, I am happy to report that it was worth all the work, and I will definitely be repeating this one! Enjoy!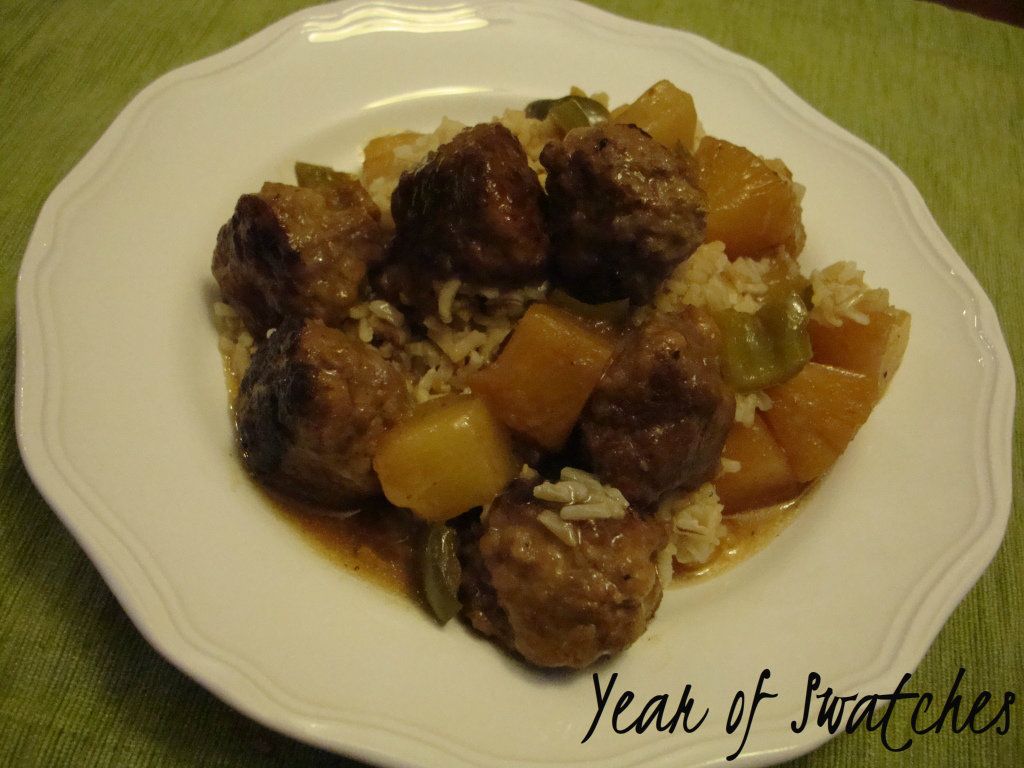 Sweet and Sour Meatballs
adapted from Fix-It and Forget-It Lightly
Ingredients...
Meatballs:
1 lb lean ground beef
1/2 cup dry bread crumbs
1/4 cup milk
1 egg
1/2 t Worcestershire sauce
2 T grated onion (if you don't have a small hand grater, you can mince the onion)
3/4 t salt
1/4 t pepper
Sauce:
1/3 cup packed brown sugar
2 T cornstarch
1/3 cup red wine vinegar
1/3 cup water
1 T soy sauce
13 1/4 ounce can unsweetened pineapple chunks, undrained
1 green bell pepper, chopped
2 cups dry brown rice, prepared per package directions
Directions...
Combine all meatball ingredients, being careful not to over-mix (use your hands until all ingredients are incorporated). The more you handle it, the tougher the meatballs will be. Shape into uniformly sized balls. Brown over medium heat in a nonstick skillet (the insides should still be raw when you put them in the crock pot). Place meatballs in the bottom of your crock pot (if there is an excess of grease, drain first).
Add brown sugar and cornstarch into your skillet. Whisk in vinegar, water, and soy sauce stirring constantly until there are no lumps. Allow the sauce to come up to a simmer, then add bell pepper and pineapple juice and chunks. Heat through, stirring as needed to prevent burning. Pour over meatballs. Do not stir (stirring will cause the meatballs to fall apart, since they aren't cooked though).
Cover and cook on low for 3-4 hours.
Serve over prepared brown rice.
Notes...
This dish had a great balance of sweet and tangy-ness (not really sure if that is even a word, but I digress). The meatballs were fall-apart tender and I would even recommend them as a standard meatball recipe (think spaghetti and meatballs...). My favorite part, though, was the pineapple. It was warm and juicy and just a tiny bit caramelized. I added a good shake of red pepper flake to my dinner to add a bit of a zip, and next time I'll add it to the cooking time (about 1/2 teaspoon per batch depending on your spicy level). If you're feeding a crowd, double the recipe because the meatballs go quickly! This recipe will serve four.
Enjoy!
~Lindsey