So, I had a bit of a hiccup with the weekend as far as posting the meals, but I'm happy to report that I am back. I did all of the cooking this weekend, as planned, and took all the pics as usual. I apologize for the 'silence' over the weekend, and the fact that I'll have a load of recipe posts for you today. Well, onto the recipes!
Friday was our first "Fishy Friday" for the 31 Days At The Table Challenge, and we had salmon. I'm lucky to live in the Pacific Northwest where we can get loads of fresh and local seafood, and salmon is no exception. This recipe could be prepared by grilling or in the oven, depending on your preference. We used the oven this time because we ran out of charcoal. If it were up to me though, I would definitely opt for the grill if you've got both available (it cooks up faster and clean up is a breeze when you cook on the grill). I served my salmon with roasted tomatoes and cheesy-garlicy mashed potatoes.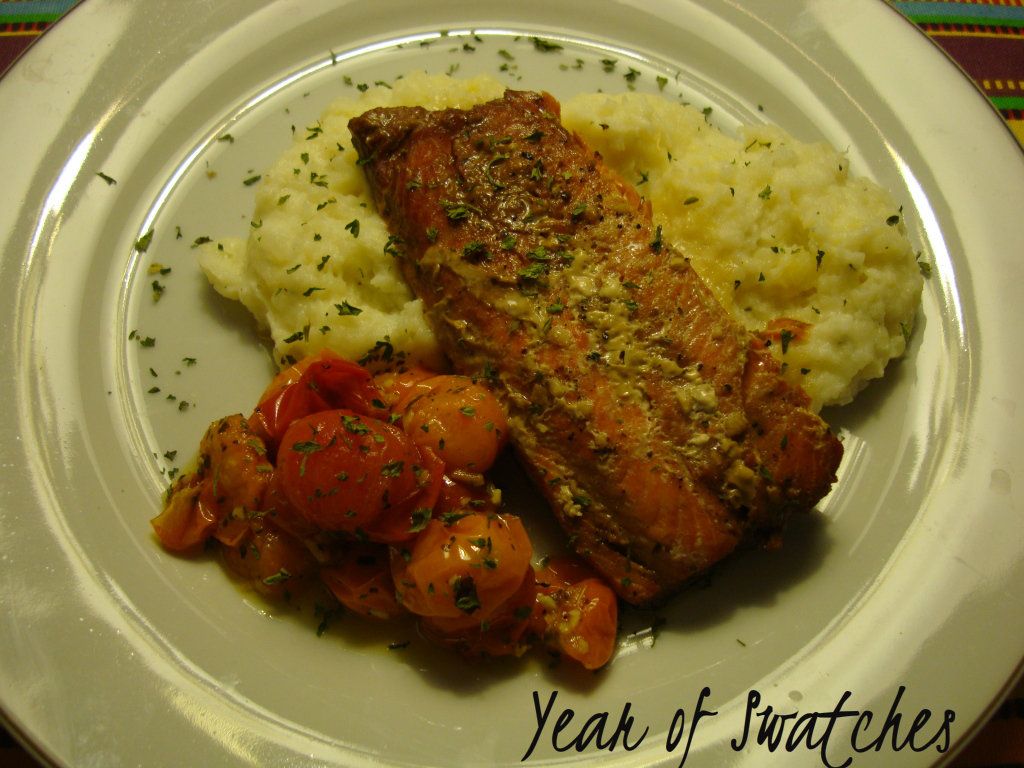 Grilled Salmon and Pan-Roasted Tomatoes
Ingredients...
Salmon:
1 lb salmon fillet
1/2 t lemon pepper seasoning
1/4 t salt
2 cloves minced garlic
1/3 c soy sauce
1/3 c brown sugar
1/3 c water
1/4 cup vegetable oil
Roasted Tomatoes:
2 cups cherry or grape tomatoes
1t minced garlic
1t dried basil
1t dried oregano
1/4 t red pepper flake
1/4 t salt and pepper, each
1 T olive oil
Directions...
Salmon:
Season salmon fillets with lemon pepper seasoning, salt, and garlic and set aside in a resealable container. Combine the soy sauce, brown sugar, water, and veg oil and stir until brown sugar is dissolved. Pour over the fillets, cover, and refrigerate for up to two hours.
Oven option:
Preheat oven to 375. Wrap salmon fillets in foil packets and place packets on a cookie sheet. Discard leftover marinade. Bake for 25 to 30 minutes or until salmon flakes easily with a fork.
Grill option:
Preheat grill to medium heat. Lightly oil grill grate. Place on grill, skin side down, and cook for 8 minutes. Flip salmon and cook for another 6 to 8 minutes, or until salmon flakes easily with a fork. You can also grill salmon in a foil pack.
Roasted Tomatoes:
Preheat olive oil in a skillet until hot. Add garlic and sautee until fragrant. Add tomatoes and remaining ingredients and sautee until the tomatoes start to pop and release their juices, stirring frequently. This should take 8 to 10 minutes.
I hope you'll give this one a try- it's healthy and delicious!
~Lindsey
One Year Ago...
Meatball Soup and
Pesto Pizza