Hello and welcome to Day 3 of the 31 Day Challenge! Wednesday is Soup day, and I have the easiest. Soup. Ever. No joke, quite simple. And pretty darn tasty to boot! Enjoy on your next chilly day or whenever only soup will hit the spot-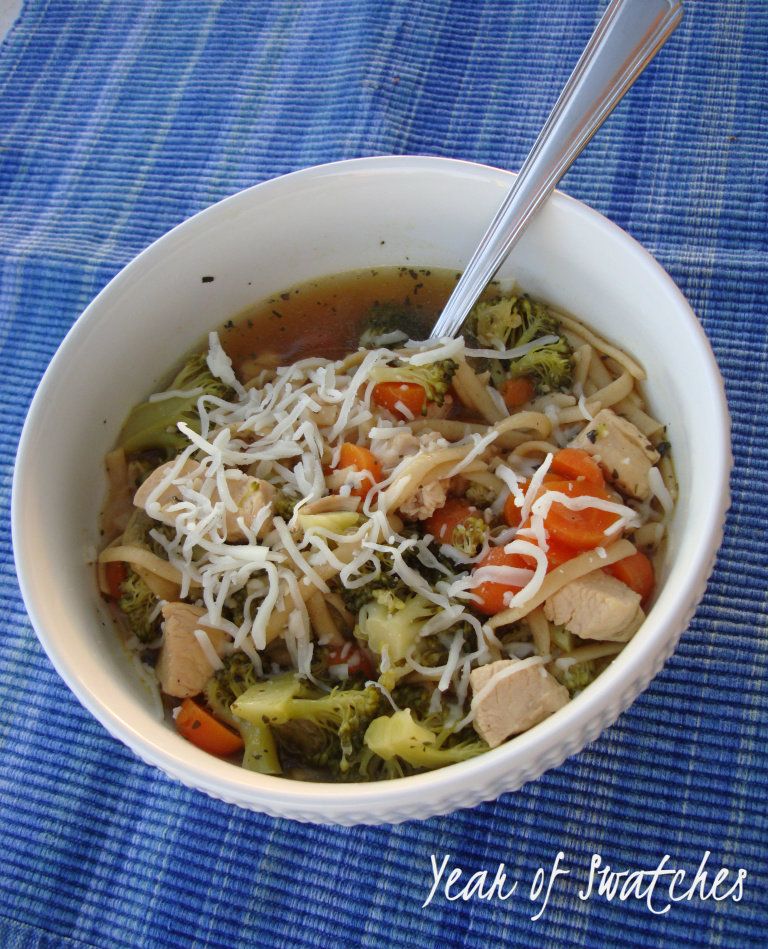 Italian Chicken Noodle Soup
Ingredients...
1 T olive oil
1/2 pound boneless skinless chicken breasts (about 2), cut into bite sized pieces
1 medium onion, chopped
32 ounce carton Chicken Stock (I like Kitchen Basics)
2 cups water
1 1/2 cup sliced carrots
2 cups broccoli florets
1 1/2 cup pasta or egg noodles
1 t dried basil
1/2 t lemon pepper seasoning
Garnish: shredded Parmesan cheese
Direction...
In a 4 quart sauce pan, heat olive oil over medium heat. Add onions and sautee until they start to become tender (about two to three minutes). Add chicken and cook until no longer pink in the center (four to six minutes).
Stir in chicken stock, water, and sliced carrots. Increase heat and bring to a soft boil, cook for five minutes. Then stir in broccoli, noodles, basil and lemon pepper seasoning. Simmer uncovered 20 minutes until veg and noodles are tender.
Top with Parmesan cheese and enjoy!
Notes...
I cannot tell you how simple this recipe is. This soup can be made in as little or as much time as you need. You can let it go for hours (throw the broccoli and pasta in in the last 20 minutes to maintain it's integrity) or have it on the table in 30 minutes or less (use leftover chicken and pasta to make it up even faster). Have leftover veggies you don't know what to do with? Throw 'em in! It's easy enough you could make it when you're sick. Not the snuffly-runny-nose kinda sick even. Migraines, flu, the plague... whatever! I know, disturbing, but true.
Have it with a sandwich, a salad, a giant hunk of crusty bread (my favorite), or simply on its own.
Enjoy
~Lindsey
One Year Ago...
Tuna and Potato Pancakes