Hello and welcome to Day 16 of the 31 Days At The Table Challenge. Tonight is going to be a little different. Ya see, we are all of a sudden over-loaded with leftovers. Loads of leftovers. My husband likes to take these meals for his lunch during work. But with the long weekend behind us, all we did was load up more the fridge with leftovers and didn't eat them. So rather than let these go to waste, we had a "find-your-own-dinner-in-the-fridge" night. The kids had stroganoff, the hubs had mini-meatloaves, and I had chili. It was a good night.
But I can't leave you empty handed, can I? So we made a sweet treat to top off our feast from the fridge night.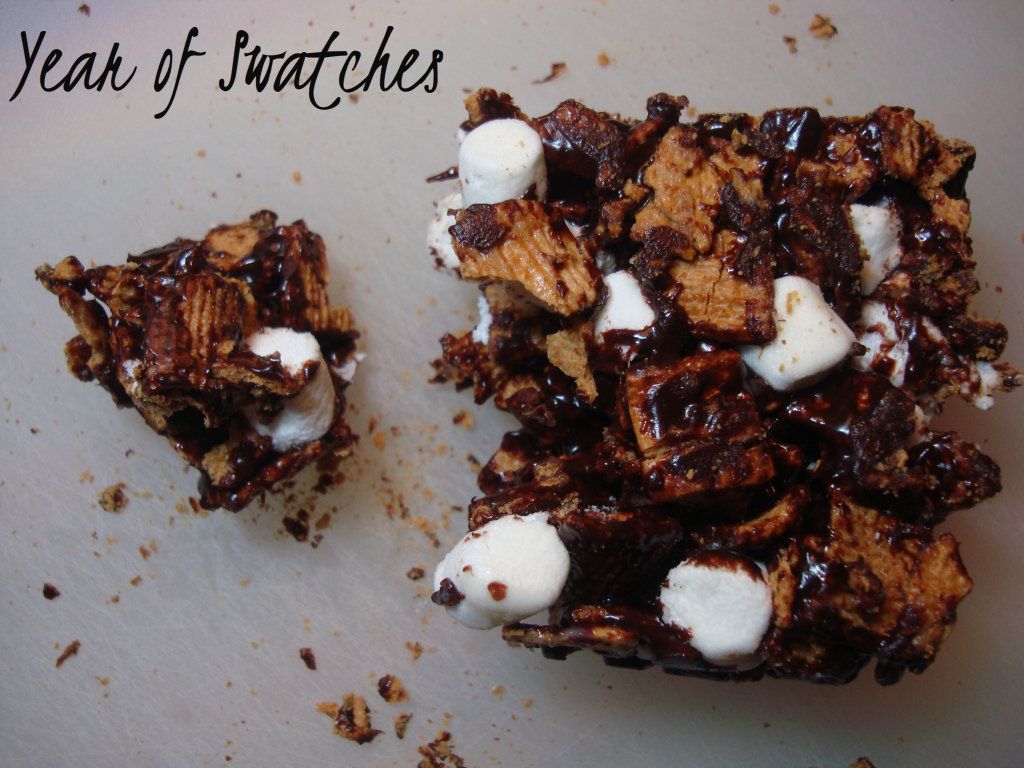 S'mores Bars
Ingredients...
10.5 oz bag of mini marshmallows (5 1/2 cups)
9 oz chocolate chips (I used Hershey's Special Dark Chocolate... yum!)
5 T butter or margarine, plus extra to grease the pan
1/4 cup light corn syrup
1 t vanilla
13 oz box of Golden Grahams (8 cups)
Directions...
Grease a 13 x 9 inch baking dish with butter.
Reserve 1 cup marshmallows.
In a 3 quart sauce pan, melt chocolate chips, butter, corn syrup, and remaining 4 1/2 cups marshmallows over low heat, stirring until completely melted. Remove from heat and stir in vanilla.
Pour cereal into a large bowl and add melted marshmallow mixture. Stir until coated. Mix in reserved marshmallows.
With the back of a buttered spatula, press into your 9 x 13 baking dish.
Let cool for at least one hour at room temp. Cut into bars
Store loosely covered at room temp (if they last).
Enjoy
~Lindsey
One Year Ago...
Penne Bake