Hi there and welcome to Day 4 of 31 Days at The Table. Today was our first Quick Cooking Thursday. Today's dinner was easy, fast, and versatile.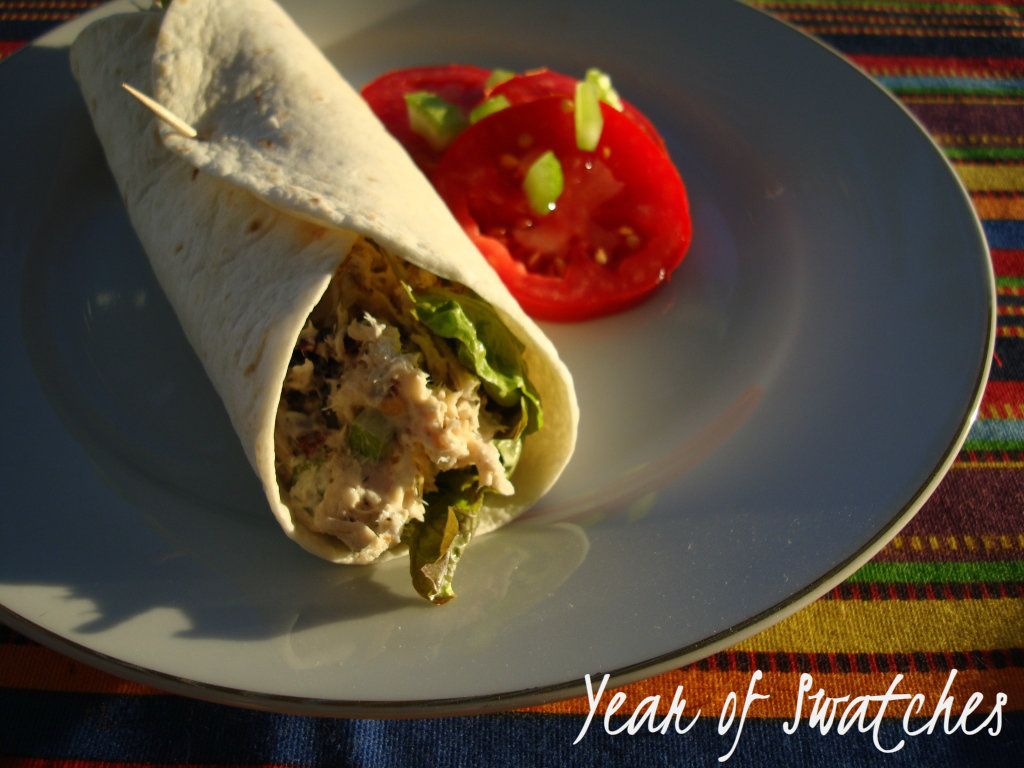 Creamy Chicken Salad Wraps
Ingredients...
4 cups cooked chicken, shredded
1/2 cup light sour cream
1/2 cup plain Greek Yogurt
1 T lemon juice
1 T white wine vinegar
1T Dijon mustard
1t honey
1/2 t salt
1/2 t pepper
1/3 c chopped celery
1/3 c sweetened dried cranberries
1/3 c coarsely chopped almonds
2 cups washed salad greens
6 flour or whole wheat tortillas
Directions...
To make the dressing: Combine sour cream, yogurt, lemon juice, vinegar, mustard, honey, salt, and pepper. Whisk until well combined. Set aside.
Stir the shredded chicken, celery, cranberries, and almonds until combined. Add 1/2 cup of dressing and mix until well coated. Add more dressing to your liking.
Warm tortillas in the microwave for 15-30 seconds to soften. Place 1/2 cup of salad greens down the middle of the warmed tortillas. Top lettuce with 1/2 cup of the chicken salad mixture. Roll up tortillas. Enjoy!
Notes...
There are tons of ways to serve this chicken salad. You can do like we did and serve them on a tortilla as a wrap. Or you could make them into a sandwich, serve it on top of salad greens as a salad (or serve it as lettuce wraps), stuff a tomato with it (ooooh leftovers!), or eat it on its own.
I have to say that I was a bit skeptical about the sauce at first. The variety of ingredients really made me wonder how they were all going to come together. But, surprisingly, it was good. I only used about half the amount of prepared dressing for my chicken salad, so next time I'd either make a half batch of dressing, or double the chicken part. The contrast between the creamy chicken, crunchy almonds and celery, and tangy cranberries made for an interesting and delicious salad. I added a sliced tomato to mine and created perfection. This would be a really great way to use up chicken leftovers. Next time you roast or grill up some chicken breasts, through in an extra one and save it for this salad, you won't be sorry!
Enjoy
~ Lindsey
One Year Ago...
Mexican Grilled Corn with Cilantro